Joseph Cook's hobby during his life was the collection of photographs; he took a great interest in his native town and went out of his way to obtain photos of as many aspects of its past as he could find. It didn't matter whether a picture had been taken by a professional or an amateur; it was the subject that counted. Over the years he built up a large collection of over 300 photographs, providing a unique record of Inverness in the latter half of the 19th and early part of the 20th century.
He would ask people he met if they had any photographs of old Inverness. The Rev. Derick Henderson recalled: "He had no trepidation; he would say, 'Can I have that, please?' And what he did was, he took it to Andrew Paterson, who was a very well known photographer not only in Inverness but nationally, and these photographs were made into these glass slides, and the definition is quite remarkable."
Cook became a popular speaker and used his photograph collection on many subjects about vintage Inverness dating back to the 1830s-1840s. His collection of historical memorabilia also included documents and posters, which he also had re-photographed by Paterson and made into lantern slides to illustrate his talks about the history of the Highland capital.
The first lantern slide show, entitled Down the Years, took place on 8th February 1937 and was dedicated to all who love the town. Held in aid of the Northern Counties Infant Home, Mr Jack D. Barclay operated the lantern and the proceeds came to £29. (Barclay was to operate the projector for Cook for over 25 years.)
The Inverness Courier reported that the "fine range of pictures of many historical and local events on the screen were in themselves of absorbing interest." They added, "His crisp descriptions and pawky stories added to the merriment."
The lecture was so successful that it was repeated on 25th February on behalf of the Isobel Fraser Home of Rest, gaining another £29. It also netted £10 on 17th November 1937 in the East Church Hall on behalf of the Organ Fund.
Cook was in great demand in 1938. On 8th February he gave the same lecture at the Library Institute at Nairn and repeated it in the Crown Church Hall on 7th February 1939, to the Field Club at the Cummings Hotel on 10th December 1940, to the Special Constables in St Mary's Hall on 16th November 1944 and again to the Field Club on 13th March 1945.
On 1st February 1938 Cook had presented Chapter Two of Down the Years in the Town Hall in aid of the Northern Counties Infant Home, raising £27, on the 16th in St Stephen's Hall (£10), and 25th in Dr Black's Memorial Hall (£10). The second talk was repeated for the Towns Women's Guild on 5th March 1945 and for the Field Club on 10th February 1948.
The third of Cook's lectures entitled Other Days was presented in the Town Hall in front of a large audience on 13th February 1938. Mr J. E. Scott, who presided, described Cook as "…a great lover of his native town, and possessing an unerring eye for the picturesque, as well as a happy facility for catching the right accent when relating Inverness anecdotes of 'bygone days.'"
A reviewer of this talk wrote, "Mr Cook gets 'better and better in every way' as his series progresses, and so do his excellent illustrations, which were notable for their clarity and beauty."
Over the decades the Chapters continued to evolve as his collection of photographs grew, and eventually they extended to six separate lectures, each with a complement of upwards of 50 lantern slides.
His Chapter Five talk was first given in May 1962, with The Inverness Courier noting that: "…it was his slides of individuals, whether known or unknown, which were on the whole the most interesting, particularly some Daguerreotypes, among the subjects being one of the three policemen Inverness had in 1845. Early motor cars, owned by the late Dr Kerr, father of Dr George Kerr, and David Lloyd George with Inverness Town Council in 1921."
His last public talk was given on 26th October 1968 in St Michael's Church Hall. It's not known how many lectures he gave altogether, probably about 50, but what is certain is that he gave great enjoyment to his listeners and in doing so raised a considerable sum for local charities and organisations.
On the occasion of the 49th annual Rotary Club dinner in October 1970, Cook presented Old Inverness one last time. The slides were projected by James Nairn Snr, and as a local newspaper recorded "..it was quite evident to all that Mr Cook was in good voice, as his words could be heard loud and clear by all in the hall."
The Cook Collection of photographs were bequeathed to James M. Sinclair, for many years Managing Director of AI Welders, who unfortunately died shortly after. The collection was then taken over by the Rev. Derick Henderson who continued to present the talks for many years using Cook's own notes.
The Collection still continued to be presented to the public in various formats after Cook and Henderson died. Derick's son, retired economist and former Highland councillor David Henderson, followed his father in presenting the photographs to the Inverness public in slideshow talks that also raised money for local charities.
Images from the Cook Collection were used (along with photos from the Whyte Studio and other sources) in the Inverness Field Club's book Old Inverness in Pictures published in 1981.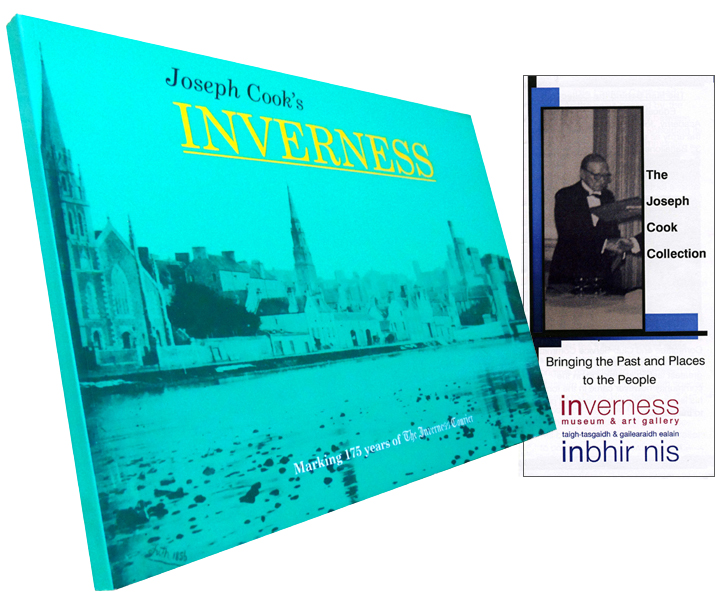 The book Joseph Cook's Inverness was published by The Inverness Courier in 1992 to commemorate the 175th anniversary of the newspaper, and during the 1990s an image from the Cook Collection was published each week in The Inverness Courier alongside essays written by local historians.
The lantern slides made by Andrew Paterson were duplicated by Aberdeen University in the 1990s. The University retained one set of copies in their archive, and the other set were returned to the Reverend Henderson. The original lantern slides were later deposited with the Inverness Museum & Art Gallery by Henderson, where they were digitised, and many of them are available to view on the Am Baile website. The Museum also holds Cook's original lecture notes and lantern slide projectors.
David Henderson later loaned his set of slides to the Scottish Highlander Photo Archive, which have also been digitised and uploaded to their online database. Negatives of the original photographs made by Andrew Paterson are also held by the Paterson Collection, and the original photographs and prints from Cook's collection which were copied by Paterson still remain with the Massey family, and these have also been digitised by the SHPA.
The photographs can still be accessed through various channels today. David Henderson once in a while still presents slide show events to local community and business groups. "Every time I show them I see something new or, beautifully, somebody in the audience points out something I haven't seen or proves me wrong on something I've positively asserted," he once told a local newspaper.
"I work off Cook's copious notes, but I'm not always sure I've got the right slide lined up with the right notes! There's an element of detective work involved.
"Cook would show 20 to 30 slides in an evening and would weave a lot of history into each one. Frankly, I don't think that's a style that would go down well with the viewer today," Henderson said. "I tend to let the slides do the talking, except where I think there is something interesting to say."
Online, Cook Collection images can be found on the Highland Council's Am Baile website, from which they are regularly posted and shared amongst various local nostalgia Facebook groups, and the dedicated Joseph Cook Collection Facebook page, which also publishes documents and images from the family archive of the Cook-Massey Collection which are not featured in the lecture collection. The Scottish Highlander Photo Archive has also digitised the original Cook Collection of photographs in colour, replicating the original work of Andrew Paterson from 80 odd years ago.