Joseph Cook was an accomplished, self-taught artist. His sketchbooks predominantly feature scenes of ships, but his series of watercolours of old Inverness scenes are reminiscent of the work of Pierre Delavault and William Glashan.
He was also an expert etcher and was much encouraged by his friend Andrew Paterson, who put on exhibitions of Cook's work in his Academy Street gallery and arranged for showings in London, which received high critical acclaim.
The Inverness Courier in August 1927 reported that the work of Joseph Cook "…whose etchings have been much admired locally for some time, lately became much more widely known further afield, as a well-known firm of London art publishers purchased two of his recent plates. The edition of both plates almost quickly sold out and the publishers asked for more plates by Cook."
One critical appraisal of his work at the time stated: "Inverness has the distinction of having made, in the person of Joseph Cook an addition to the group of Scots artists which have achieved distinction in etching. Cook's direct work on the copper-plate has been known to a few of his interested friends as vital and interesting in quality. He has been persuaded to submit some of his work for examination, with results that are gratifying in the extreme."
From the moment of issue they attracted the attention of discerning collectors, and a steady demand was made for the prints. The issued plates were titled Off Cromarty — a simple but strong study of a barque under sail off the coast — and a charming study called Avoch Fishing Boats.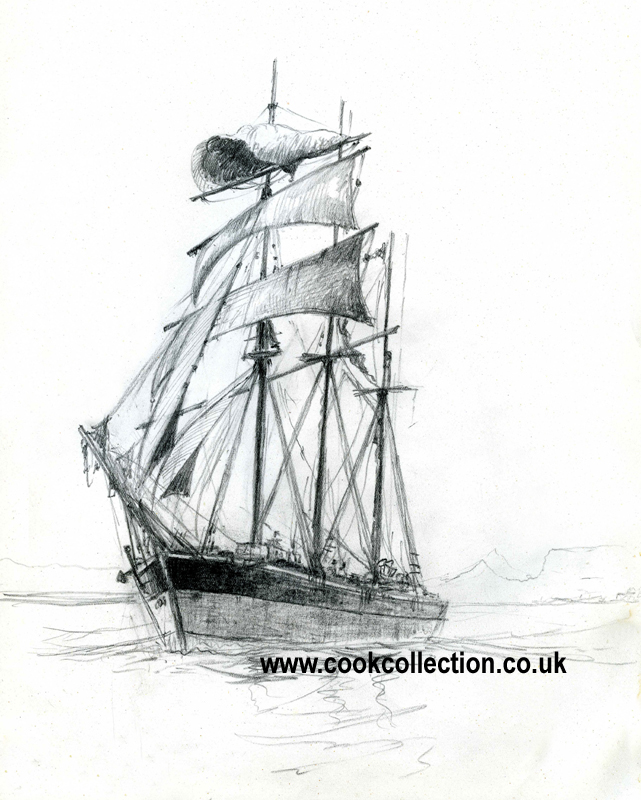 The appraisal continued: "…his work as such comes from the hands of a man who has mastered his selected medium for expression and who has an individual contribution to make to the school in which he worked and studied. The effective handling of the simple, subtle themes he has selected for his first publications has astonished the critics. In Off Cromarty his treatment of sky and water reveal power to convince by suggestion and to fix a fleeting glimpse of beauty by catching and preserving the subtle essentials which are never seen on the surface. Joseph Cook unmistakably has the qualities which give him place among those who create and interpret."
The Daily Record in January 1929 reported on a further "…series of etchings by Joseph Cook, whom Andrew Paterson was the first to urge to submit his work to dealers — with the result that already nine plates have been published. Joseph Cook never had an art lesson although he has interested himself all his life in drawing, and his work, which deals mainly with marine subjects, has a freshness and vitality that suggest Inverness will one day possess the satisfaction of having produced an etcher of note."
Cook also exhibited  at the Royal Scottish Academy in Edinburgh; in 1931 two etchings — A Lowestoft Ketch and A Timber Freight — and a drypoint Off Ushant were accepted for the 105th exhibition. The following year Cook had two etchings on exhibition, The Press & Journal of 22nd April noting "…the better of which is the Riscoe-ish scene Off the Butt of Lewis." The other etching was called A North Devon Harbour.